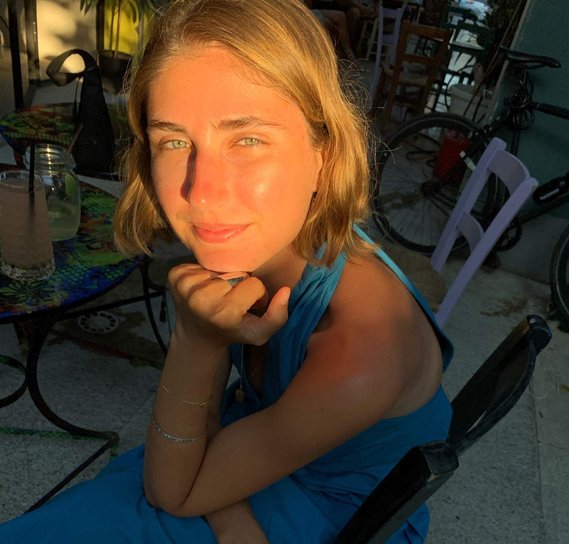 Melanie Christou
Freelance Fashion Make-Up Artist based in London.
Education:
-Fine Art BA (Nottingham Trent University)
-Complete Make Up Diploma (London School of Media Make Up)
Melanie uses exclusively natural, organic and cruelty-free products, and has a zero-waste approach to her practice.
Melanie had a column for a few years on WMC, where she wrote articles about green beauty and sustainable living.
Brands she works with:
Camper, AIDA, Joy, L'Oreal, Content Beauty & Wellbeing, We Resonate, Madara Cosmetics, By Rotation, Balance Me Skincare, Jack Wills.
Press:
Melanie assists:
Lisa Eldridge, Andrew Gallimore, Thom Walker, Thomas de Kluyver, Erin Parson, Laura Dominique, Vass Theotokis, Ariel Yeh, Jenny Coombs, Lynsey Alexander, Rebecca Wordingham, Lucy Burt, Claire Urquhart, Ninni Nummela, Anne Sophie Costa, Daniel Kolaric, Martina Lattanzi, Mona Leanne, Verity Cumming, Mel Arter, Nicola Brittin, Crystabel Riley, Pamela Cochrane, Terri Capon, Jen Myles.
Melanie was part of the make up team on the below shows:
London Fashion Week
Gy Kimchoe AW16, Superdry LCM SS17, KTZ SS17 & AW17, Roberta Einer SS17 & AW18, Kepler AW17 & SS18, Paula Knorr SS18 & AW18, Alice Archer SS18 & AW18, Timothy Bouyez - Forge SS18 and Harry Evans SS18, Alexandra Moura SS19, Kalda SS19, Sadie Williams SS19, Huishang Zhang SS19, Iceberg AW19, Cottweiler AW19, Feng Chen Wang AW19, Renata Brenha AW19, Isosceles Lingerie AW19, Alexa Chung AW19, Wessley Harriott AW19, Huishan Zhang AW19, Pushbutton AW19, Quasimi SS20 & AW20, C2H4 SS20, Craig Green SS20, Robert Woods SS20, David Koma SS20, Per Gotesson AW20, Phoebe English AW20, Dipetsa AW20, MM6 Margiela x North Face AW20, Phoebe English SS21, Burberry SS21, Eudon Choi SS21, Lula Laora SS21
Milan Fashion Week
Palm Angels AW18 & SS19 and Fendi S/S19, Byblos AW19, Maison Margiela AW19, Roberto Cavalli AW19, GCDS AW19, Iceberg SS20, Hugo Boss SS20,
Paris Fashion Week
Yohji Yamamoto AW18, Mackintosh AW18 and Berluti AW18, OAMC SS19, Sacai SS19 and Y-3 SS19, Acne Studio Homme AW19, Sacai AW19, Acne Studio Women's AW19, Azzaro AW19, Jean Paul Gaultier SS20